The Patrol Division provides a full range of emergency and non-emergency services to the entire county. The primary responsibility is to provide 24-hour service and protection to the citizens and visitors of Nassau County.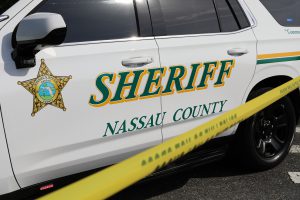 The Patrol Division is managed by the Patrol Division Commander and is broken down into four separate squads. Each of these squads consist of ten deputies who are assigned to individual zones. The two sergeants are assigned to a sector and the lieutenant is responsible for the entire County. The East sector starts at the most Easterly side of the County and extends West to Griffin Road on S.R. 200. The West sector starts at Griffin Road on S.R. 200 and extends to the farthest Westerly end of Nassau County. Both the East and West sectors coverage extends North to the Florida/Georgia state line and South to the Duval County line. The sectors are overseen by the shift Watch Commander (Lieutenant).
Each of the patrol squads are assigned one K-9 which is centrally located in the County for calls for service to each sector. Each dayshift has two deputies, who in addition to having patrol vehicles and performing patrol functions, are assigned police motorcycles. These deputies have completed a rigorous Police Motorcycle Training Course and are utilized to work special events and traffic assignments when needed.
The Patrol Division has a number of specialty units under its umbrella. These include Special Operations, K-9 Unit, Motor Unit, Special Response Team (SRT), School Resource Officers, Agriculture and Marine Unit, DARE, Secondary Employment Unit, Sheriff's Reserve Unit, and School Crossing Guards.
The bulk of the Patrol Division is assigned to proactively patrol the 652 square miles that make up Nassau County. The Sheriff's Office is also responsible for patrolling the waterways within Nassau County and has a variety of watercraft to perform that function.
Substations
The Sheriff's Office has substations in the Towns of Callahan and Hilliard. These locations provide a place to conduct roll calls and have meetings, as well as a quiet place for deputies to complete reports. They are also available to conduct other police and community activity. Both locations have satellite offices for Micah's Place, which is a domestic violence organization. The Hilliard substation also has a satellite office for the Barnabus Center which is a multifaceted organization that provides assistance to citizens in crisis situations. It should be noted that neither of these substations are staffed full time.
The Sheriff's Office recently opened a new substation in partnership with the Boys and Girls Club which is located on C.R. 107 (Old Nassauville Road).