Carry an emergency kit, including water, a flashlight, basic tools, a blanket and a first aid kit.
Keep your doors locked and windows up to avoid a carjacking.
Stay Alert! If someone approaches you in a threatening manner, drive away if possible. While stopping for traffic, give yourself space in front of your vehicle so you can maneuver out of the situation if necessary. Carjackers look for opportunity…an alert driver in a locked vehicle with space to move is not a good opportunity for a thief.
All valuables should be kept out of sight or in the trunk.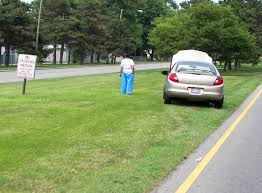 Never pick up hitchhikers.
Do not leave house keys attached to car keys at service centers or valet areas.
Carry a cell phone that dials 911. (Paid service is not needed.)
If you are being followed, don't drive home. Go to a police or fire station or a well-lit public location with people where you can assistance.
NEVER leave children unattended in vehicles whether the vehicle is running or not.