Being out on the water can be fun but it can also be dangerous. With 74.30 square miles of water and 12.7 miles of shoreline, the Nassau County Sheriff's Office Marine Patrol Unit is tasked with marine enforcement and boating safety.
Boating accidents are most often caused by factors such as carelessness, inattention, navigation-rule violations, poor choices during bad weather, inexperience, and alcohol consumption. For the benefit of new boaters or those not familiar with Florida boating regulations, we offer the following information: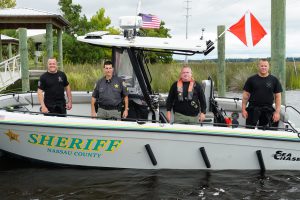 Any boat operator who is 21 or younger and operates a vessel with 10-horsepower or more must do the following: take a state and NASBLA-approved boating safety course send proof of course completion to the Florida Fish and Wildlife Conservation Commission, and carry their FWCC-issued boating safety ID card and photo ID with them while operating the vessel.
It is a violation of Florida law to operate a vessel while impaired by alcohol or other drugs. A vessel operator suspected of boating under the influence must submit to sobriety tests and a physical or chemical test to determine blood- or breath-alcohol content. In Florida, a vessel operator is presumed to be under the influence if his blood- or breath-alcohol level is at or above .08.
A vessel owner or operator is responsible to carry, store, maintain and use the safety equipment required by the Coast Guard. All vessels are required to have onboard a wearable Coast Guard-approved personal flotation device (PFD) for each person. PFDs must be the appropriate size for each intended wearer, be in serviceable condition and be easily accessible. Children younger than 6 must wear a USCG-approved Type I, II or III PFD while onboard a vessel under 26 feet in length while the vessel is operating.
Vessels with built-in fuel tanks or enclosed compartments where gasoline fumes can accumulate are required to carry at least one fire extinguisher (depending on vessel) which is approved for marine use.
Recreational vessels are required to display navigation lights between sunset and sunrise during periods of reduced visibility such as rain, fog and haze. The Coast Guard's navigation rules specify lighting requirements for every description of watercraft on its Web site www.uscgboating.org.
Have all safety gear onboard and serviceable.
Take a fully charged cell phone.
For extended or unusual excursions, file a float plan with a trusted person.