The Information Technology Department is responsible for the overall design, implementation, performance and stability of all computer and network related systems. These areas include the 911 Center, the Detention Facility, Voice over IP (voIp) phone system, the Unified Messaging platform, approximately 32 servers, nearly 200 workstations and over 75 Mobile Data Terminals (laptops).
In addition to the hardware aspects of the department, they also manage in house custom written software that is designed by the IT staff. These custom software applications service the agency and community in a variety of ways; such as Field Reporting Software, Evidence Software, In-Car Video Camera Software, and Employee ID Software.  By creating law enforcement applications in house it allows the Sheriff's office to create a more flexible and customizable software suite while realizing cost savings.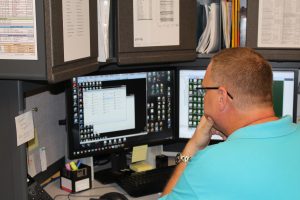 Upcoming projects include progressing to a virtualized server/workstation environment which allows for future server and workstation expansion and increased flexibility in design. Additionally, the updated website will prove to help the citizens of Nassau County by providing current up to date information regarding the programs and services the agency offers the community.