A career in Corrections offers many challenges and rewards.  There are numerous promotional opportunities and specialized assignments available.
We are currently seeking qualified certified applicants!
Contact Human Resources for more information.
Kathrine Hall – (904) 548-4054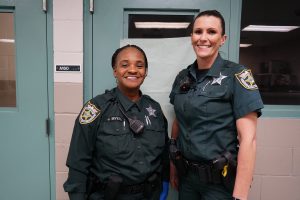 Correction Officer applicants must:
Be at least 19 years of age
Be a United States Citizen
Be a High School Graduate or possess a State Equivalency
Never received a Dishonorable Discharge from any of the Armed Forces of the United States
Not have any convictions for felonies or misdemeanor offenses involving moral turpitude
Be certified as a Corrections Officer by the Florida Criminal Justice Standards Commission at the time of employment.
Pass Florida Department of Law Enforcement Criminal Justice and Training physical requirements
Hold Certification by the Florida State Examination for Law Enforcement professionals
The employment procedure includes:
Download and Complete an Application
Background Investigation
Oral Review Board
Polygraph Examination
Medical and Psychological Exam
Substance Screening
Offer of Employment
If you are interested in applying for a Corrections Officer position, please go to the HUMAN RESOURCES tab to download an application.
Human Resources receives and processes employment applications for all divisions of the Sheriff's Office. We continue to accept applications for Full-time; Part-time; and Reserve Status positions. Applications are active from one year from the date of the application. Once a vacancy occurs, applications are reviewed and screened and selected applicants will received notification from Human Resources to begin the interview process.
For more information contact the Human Resources Office at (904) 548-4054 or email to khall@nassauso.com.
In the event of critical needs staffing, the Nassau County Sheriff's Office may send recruits to the Basic Recruit Training Academy.  Otherwise, applicants must be certified before applying for any sworn positions. 
The Nassau County Sheriff's Office is an Equal Employment Opportunity Employer.  We consider applicants for all positions without regard to race, color, national origin, sex, age, disability, marital status, religion or any other legally protected status.


Under Florida law, e-mail addresses are public records. If you do not want your e-mail address released in response to a public records request, do not send electronic mail to this entity. Instead, contact this office by phone or in writing.