You can become "part of the action" as a Communications Dispatcher. Work as partners with Deputy Sheriffs in protecting your community.
The Nassau County Sheriff's Office is always accepting applications for Dispatchers!
To Begin the Process, Download the Application:
Communication Dispatcher applicants must:
Be at least 18 years of age
Be a citizen of the United States
Be a High School Graduate or possess a State Equivalency
Not have any convictions for felonies or misdemeanor offenses involving moral turpitude
Never received a Dishonorable Discharge from any of the Armed Forces of the United States
The employment procedure includes:
If you are interested in applying for a Communications Dispatcher position, please download and complete an application. For more information contact the Human Resources Office at (904) 548-4054 or email khall@nassauso.com.  Download and Complete an Application – return to Nassau County Sheriff's Office located at 77151 Citizens Circle, Yulee, FL 32097. 
Dispatch Test
Typing test
Oral Review Board
Background Investigation
Polygraph Exam
Substance Screening
Offer of Employment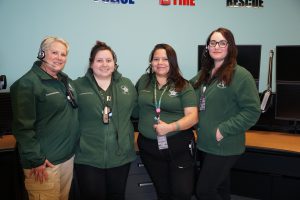 Human Resources receives and processes employment applications for all divisions of the Sheriff's Office. We continue to accept applications and they are active from one year from the date of the application. Once a vacancy occurs, applications are reviewed and screened and selected applicants will received notification from Human Resources to begin the interview process.