The Nassau County Sheriff's Office Agriculture and Marine Unit works in partnership with other local, state and federal agencies to provide safety to our extensive coastlines, inland waterways and lakes by providing law enforcement and emergency rescue operations. They also patrol woodlands and undeveloped property along with other areas that are inaccessible to our Patrol Division.
Agricultural
The agriculture portion of the unit investigates crimes that occur on rural lands including illegal dumping of garbage or waste products, theft of pulpwood equipment and trespassing on timber lands just to name a few. The deputies also instruct hunter safety courses throughout the year for the youth of our community.
Agricultural Responsibilities & Duties
Patrol woodlands, fields and undeveloped property
Respond to and assist with crimes that have been reported that are in areas that are inaccessible to the Uniformed Patrol Division
Respond to search and rescue missions of lost or overdue boaters, hunters and children
Perform property checks
Assist in drug eradication
Give instruction to our youth on hunting safety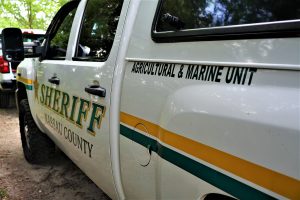 Marine
The Marine portion of the unit maintains a collaborative partnership with many federal, state and local agencies and routinely assists with special operations.
The U.S. Customs and Border Patrol (CBP), U.S. Drug Enforcement Administration (DEA), Florida Department of Environmental Protection (DEP), and Florida Fish and Wildlife Commission are just a few of the agencies that the Sheriff's Office provides support to when needed. The unit is part of the Regional Domestic Security Task Force and assist with homeland security details when needed.
They also provide waterside security at the Port of Fernandina Beach, interstate bridges, rail lines, and gas lines crossing the waterways of the County.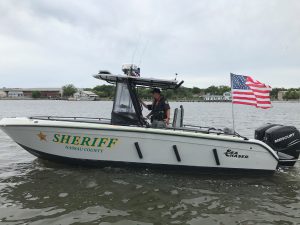 Marine Responsibilities & Duties
Patrol rivers and waterways within Nassau County
Respond to reports of drowning victims when marine vessels are required to aid in the search
Respond to reports of lost, overdue, or disabled vessels
Respond to reports of abandoned vessels
Assist other agencies with water related issues
Assist in any law enforcement situation where a vessel could be utilized
Enforce marine and resource laws
Perform boating safety inspections
Enforce County wake restrictions
Assist with the homeland security details
Active participants in the Regional Domestic Security Task Force in regards to the security of Kings Bay.
The Marine Unit currently has four boats available for use. These vessels range in size and functionality and have the capabilities of functioning in offshore and inshore situations. One Jet Ski is also available for use during the warmer months to assist in the patrolling of our waterways. This vessel is also utilized year round in emergency situations where quick rescue efforts are required.
Underwater Recovery
The Nassau County Sheriff's Office Underwater Recovery Team is comprised of deputies who are responsible for responding to missions that may require the underwater recovery of evidence, bodies or vehicles.
Safe Boating Tips from NCSO
Complete a boating education course.
Get a boating safety check from the US Coast Guard Auxiliary.
Make sure you have a US Coast Guard approved life jacket for all of your passengers. It is a great idea to wear your life preservers at all times when your vessel is in motion. Also make sure all required US Coast Guard Equipment is on board and functional.
Avoid alcoholic beverages while boating.
Be aware of weather and tide conditions when planning your boating trip and have a plan of action if weather conditions suddenly change.
Have a working marine radio and or a cell phone on board.
Pack extra gear you may need such as: flashlight, batteries, flares, first aid kit, sunscreen, and drinking water.
Have a Float Plan: Tell someone where you are going, who will be with you and how long you plan to be out.
Know your boat's capacity and capabilities.