State of Florida Seat Belt Laws
In a car crash you are much more likely to be killed if you are not wearing a seat belt. That is why Florida has seat belt laws. The law states that the front seat passengers must wear seat belts. This law applies to any car manufactured since 1968. In addition, all passengers under 18 years old must wear a seat belt or be otherwise restrained by a child car seat. It is against the law to operate a vehicle if all the passengers do not meet these standards.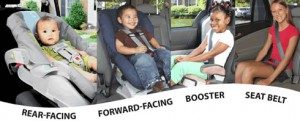 The cost for a seatbelt violation is $30 plus county court fees. Below is a summary of the Florida seat belt law. For a child that is not properly restrained the violation is $60 plus county court fees.
Summary of Mandatory Seat Belt Laws
Seat belt laws apply to all cars, pickup trucks, and vans operated on Florida roads.
All passengers in the front seat must wear a seat belt.
All passengers under 18 must wear a seat belt
Florida Child Restraint Requirements
Children 3 and younger must be secured in a federally approved child-restraint seat.
Children 4 through 5 must be secured by either a federally approved child restraint seat or safety belt.
The Driver is responsible for buckling up the child.
Why is it Important to Wear a Safety Belt?
Seat belts protect you from being thrown from a vehicle. If you are thrown from a vehicle your risk of death is five times greater.
By securing you in your seat, a seat belt protects you from being thrown into other people in the car and parts of your car. In addition, seat belts keep the driver in their seat so they can control the car.
Always Wear your Safety Belt
The Florida safety belt laws apply at all times. Regardless if you are on a short trip in your neighborhood or driving hundreds of miles on the turnpike – always wear your seat belt.
Full details of the Florida Safety Belt law can be found in the Florida Driver's Manual.