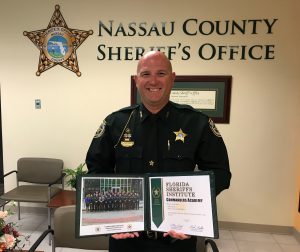 Nassau County Sheriff Bill Leeper is pleased to announce that another member of NCSO has graduated from the prestigious Florida Sheriffs Association Commanders Academy.
Lieutenant Jeff Stull, Jr., a Shift Commander at the Nassau County Jail/Detention Facility, completed the Academy at the Florida Sheriffs Association headquarters in Tallahassee.  The Academy was designed by sheriffs to ensure members have the background and training to carry out their responsibilities within the agency.  The program was developed in conjunction with the Florida Criminal Justice Executive Institute.
The Commanders Academy is an exceptionally informative and educational experience that is vital for public safety leaders of the next generation. The Commanders Academy has become recognized as the premier course of executive study for mid to upper level criminal justice leaders.
"Leadership development is a priority for any sheriff engaged in succession planning," said Sheriff Bill Leeper.  "Commanders regularly face complex decisions every day, and training at this level only enhances their ability to supervise personnel and best serve our community."
The two week core curriculum focuses on leadership, ethics, discipline, and news media relations while the remaining curriculum is adjusted according to emerging trends and issues that have an impact on our sheriffs and recent high-profile events. Each topic is threaded with issues that are unique to the culture of the Office of Sheriff. Each class heard from over 60 presenters and panelists, many of which were sheriffs. No other criminal justice program in the state provides this level of executive training.