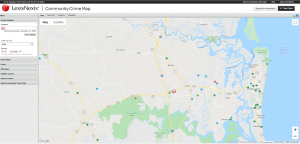 Yulee, Fla. – The Nassau County Sheriff's Office and LexisNexis Risk Solutions have partnered together to provide a new way for our citizens to stay informed about crime in Nassau County.
"NCSO now has a free online crime map called Community Crime Map that maps and analyzes crime data, alerts citizens about crime in their area, and allows our agency to quickly alert the public about crimes as they occur." said Sheriff Bill Leeper.
Nassau County citizens can visit the website directly at communitycrimemap.com or visit nassauso.com to find the link, then search for Nassau County and view a map and grid with all of the crimes in their area, sign up for neighborhood watch reports that automatically email a breakdown of recent crime activity, and submit an anonymous tip about a crime directly to law enforcement.
Information that will be provided include the type of crime, location type, block-level address, date and time.
This means you'll be able to check your own neighborhood to see what is actually occurring so you can take the necessary precautions to reduce your chances of becoming a victim of crime.
"We all must work together and it's partnerships that make our county safer, so please let us know if you see anything suspicious," added Leeper.
LexisNexis Risk Solutions is a leader in providing essential information that helps law enforcement agencies throughout the country through cutting edge technology, unique data and advanced analytics.