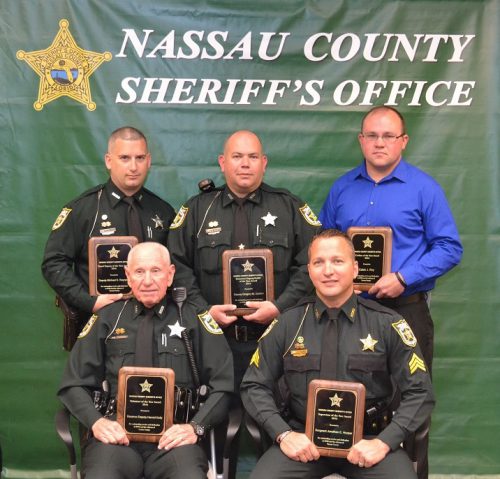 The Nassau County Sheriff's Office held their 2016 "Employee of the Year" awards ceremony on Wednesday, March, 29, 2017 in their new Administration Building classroom.  Several employees were recognized for their outstanding efforts during 2016.  "Their dedication and commitment to our community, have placed themselves in harm's way to keep citizens from being harmed; who through their experience have saved a life of a citizen; or through their exceptional and outstanding service have ensured the quality of life all of us have come to expect living in Nassau County," said Sheriff Bill Leeper.
In addition, Sheriff Leeper recognized Deputy Chauncey Mason for saving the life of an individual who suffered a heart attack and also presented the Medal of Honor posthumously to Deputy Eric Oliver's family.
Several local businesses also partnered with the Sheriff's Office to recognize the award winners as well.  They are: The Seaside Amelia Inn, Omni Resort Amelia Island Plantation, The Fairbanks House, Amelia Hotel at the Beach, Hampton Inn & Suites, the Residence Inn Marriott, and the Ritz Carlton Amelia Island.
 Volunteer of the Year Reserve Deputy Harold Kelly- Reserve Deputy Harold Kelly donated more than 500 hours in 2016 assisting in special events, assisting patrol deputies and conducting additional night surveillance patrol searching for suspects during a rash of burglaries in the Bryceville area.
 Civilian Employee of the Year Caleb Roy– Vehicle Technician Caleb Roy assisted NCSO Crime Scene Unit Detectives by recovering a bullet from a vehicle that had to be disassembled, which was suspected in a shooting incident.  He also set up a temporary fueling station for Nassau County Fire/Rescue during Hurricane Matthew's declared emergency.
Communication Officer of the Year  Joyce Fisher– 911 Communication Officer Joyce Fisher was recognized for her professional handling of several suicide threats that were called into the 911 Call Center.  As an example she was instrumental in assisting NCSO deputies locate a high school student who had relayed information via the internet of his impending suicide.  She was able to determine the teenager's identity, location and dispatched deputies to the scene, eventually saving him from harming himself.
Detention Deputy of the Year Greg Gordon – Deputy Greg Gordon was reviewing outgoing mail from the inmates at the Nassau County Jail when he reviewed a letter that contained suicidal threats an inmate was sending to his family.  Deputy Gordon removed the inmate from his cell area and after interviewing him he had the inmate evaluated by mental health professionals, which ultimately helped him cope with his situation.
Patrol Deputy of the Year Michael Reynolds – Deputy Michael Reynolds responded to a call for assistance from the Fernandina Beach Police Department in reference to a stabbing incident that killed another individual.  He conducted a traffic stop of a speeding vehicle in the area of the stabbing which led to the arrest of the murder suspect who was a passenger in the vehicle.
Investigator of the Year Anthony Green – Detective Anthony Green assisted the Jacksonville Sheriff's Office by sharing critical intelligence that was both narcotics and homicide related.  His assistance resulted in JSO seizing $10,000 in cash, $5,000 in gift cards and 13 grams of heroin.  The information Detective Green provided also led JSO's homicide unit to a suspect who was wanted in a murder that occurred in Jacksonville.
Supervisor of the Year Sergeant Jon Hooper – Sergeant Jon Hooper was in charge of coordinating the search for the suspect that was fleeing from Deputy Eric Oliver, which led to his death.  Sergeant Hooper worked with the Jacksonville Sheriff's Office, Florida Highway Patrol, US Border Patrol and US Marshall's Office, which led to the capture of the suspect in a warehouse area in Jacksonville.  Sergeant Hooper also supervised two drug interdiction operations during 2016 which led to 59 people being arrested for selling illegal drugs in Nassau County.
Life Saving Award Deputy Chauncey Mason – Deputy Chauncey Mason encountered a 51 year old male unconscious and not breathing in one of the guest rooms at a local resort.  Deputy Mason utilized his agency issued Automatic External Defibrillator (AED) to bring the man back to life twice.  Doctors at the hospital said as a direct result of the quick response and actions of Deputy Mason, the man is still alive today.
Medal of Honor Deputy Eric James Oliver – The Medal of Honor ranks as the highest award bestowed by the Nassau County Sheriff's Office and is awarded posthumously to a member who loses their life in the performance of duty under honorable circumstances.  This award was presented to Deputy Eric Oliver's family as he gave his life in an attempt to apprehend a criminal in Yulee on November 22, 2016.
 Picture #1:
Front row seated left to right: Volunteer of the Year Reserve Deputy Harold Kelly and Supervisor of the Year Sergeant Jon Hooper.
Back row standing left to right: Patrol Deputy of the Year Michael Reynolds, Detention Deputy of the Year Greg Gordon, and Civilian Employee of the Year Caleb Roy.
Not pictured: Investigator of the Year Anthony Green.
Picture #2: Communications Officer of the Year Joyce Fisher
Picture #3: Deputy Chauncey Mason receives the Life Saving Award.
Picture #4: Medal of Honor is given to Deputy Eric Oliver's family (Mother Sharon, Father Doug, Daughter Shelby, Brother Stephen and Brother Thomas.