NASSAU COUNTY SHERIFF'S OFFICE
CORRECTIONAL OFFICER
The Detention Deputy monitors, controls and accounts for incarcerated inmates and civilian visitors while at the Nassau County Sheriff's Office Jail / Detention facilities. The Detention Deputy also monitors and supervises juveniles. The most important and essential job function of the position is attitude which includes the following: interacting positively and cooperating with co-workers, NCSO law enforcement officers, Nassau County fire/rescue officers, other local, state and federal law enforcement agencies and other public safety personnel; responding politely to civilians, visitors and inmates, working as a team member, functioning under intense time pressure and responding in a positive manner to supervision.
The Detention Deputy may perform other related duties and tasks, as required or assigned and shall have the physical, mental and emotional abilities to perform the essential job duties of the position.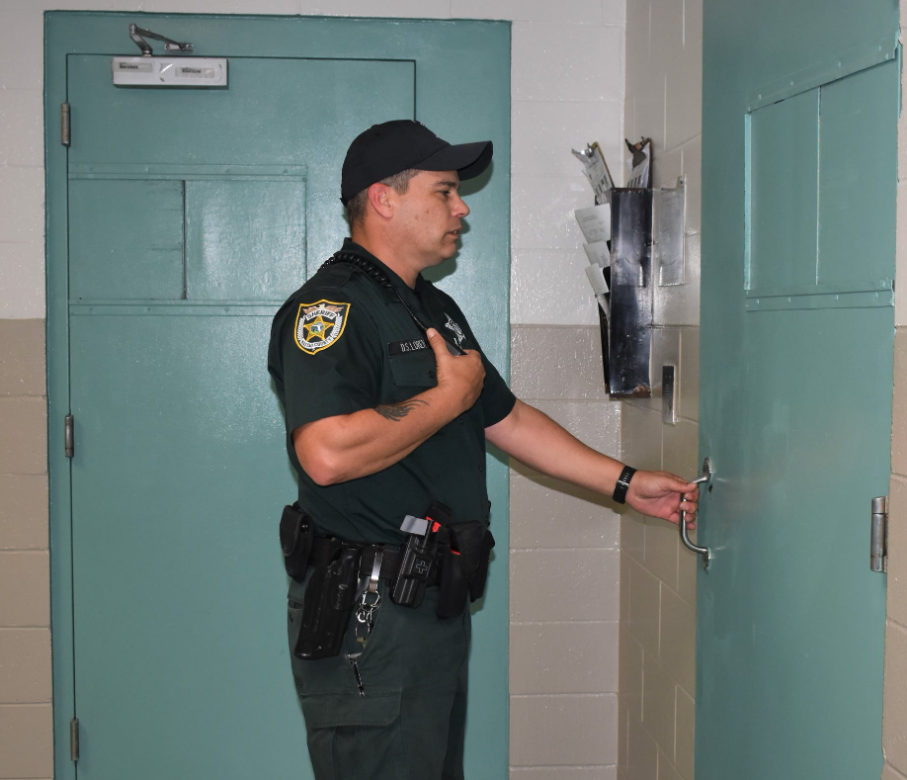 Education, Professional Certification or License: (Required)
High School Diploma or GED

State of Florida Basic Recruit Certificate of Corrections Compliance after   completion of training in accordance with the Florida CJSTC

Valid Florida Driver's License
• Prior Corrections / Law Enforcement experience is preferred but not mandatory
• Experience in Security or Social Work fields preferred
• Speak, read and write English understandably
• Accurately read, write and articulate numbers
• Manual dexterity
• Recognize colors
• Walk / stoop / bend / squat / kneel / reach
• Walk five miles
• Subdue a resisting / attacking subject
• See at normal range (or with accommodation)
• Hear at normal level (or with accommodation)
• Step up / down a 4 – 5 inch street curb
• Mental alertness
• Ambulate independently
• Sit for long periods
• Stand for long periods
• Lift / drag / carry <200 lbs.
• Run fast for 50 yards
• Climb stairs
• Sense of smell
• Tolerate strong odors
• Administer First Aid / CPR
Reasonable accommodation(s) will be made for otherwise qualified individuals with a disability.
• Remain calm / Concentrate under stress
• Speak, read and write English
• Follow instructions
• Adapt to incoherent inmate
• Adjust to physical disabilities
• Recognize contraband
• Operate a motor vehicle
• Operate intoxilyzer
• Operate a computer
• Use discretion / confidentiality
• Read maps 
• Reason logically
• Direct evacuation
• Operate fire-fighting equipment
• Perform multiple tasks at once
• Compile data, prepare reports
• Operate a hand truck
• Operate photographic equipment
• Operate office equipment
• Maintain records
• Observation • Self-defense • Communications • Interpersonal
• Organizational • Stress management • Decision making • Intoxilyzer maintenance • Record keeping • Radio • Basic mathematical • Basic English grammar • Telephone • Reading comprehension • Computer • Keyboarding
• Weapons proficiency
• 12 hour shifts
• Days, Nights, Weekends, Holidays, Overtime
• Rotating Shifts-
Work Mon – Tue, off Wed – Thu, work Fri – Sat – Sun
off Mon – Tue, work Wed – Thu, off Fri – Sat – Sun
• Starting Annual Salary $51,000.00
• Hourly rate $23.3516
• Step Plan 2.5 % each anniversary year with NCSO
(Yearly Budget Approval)
• Longevity Pay $250.00 per year of service with NCSO as of 09/30
(Yearly Budget Approval)
• Health
• Dental
• Vision
• Life
• Long Term Disability
• Paid Time Off
• Florida Retirement System (FRS)
The Nassau County Sheriff's Office is an 
Equal Opportunity Employer and a Drug Free Workplace.