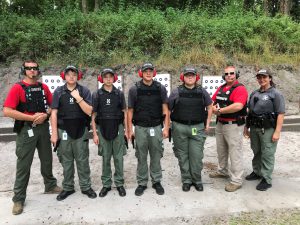 A few NCSO Explorers practice their shooting skills with NCSO firearms instructors before they travel to Osceola County to participate in a shooting competition at the annual Florida Explorer conference.
The Nassau County Sheriff's Office Explorer Unit is a member of the Florida Sheriffs Explorer Association.  The Florida Sheriff's Explorer Association is made up of 35 Explorer Posts from around the State of Florida. Each Post is comprised of young adults that are exploring the field of law enforcement. These young adults are males and females ages 13 to 21 years old.
Law enforcement exploring provides educational training for youth and young adults on the purpose, mission and objectives of law enforcement.  The program provides career orientation experiences, leadership opportunities and community service activities.
Becoming an Explorer opens up opportunities to meet new friends, make a difference in our community, obtain law enforcement experience, and explore possible career opportunities.
Explorers gain leadership qualities, responsibility, maintain integrity and pride, as well as self-discipline and motivation.
The aim of our Explorer program is to not only explore law enforcement as a possible career choice, but develop leadership skills, and to provide service to our community.
The Explorer program encourages young individuals to continue their education, allows the explorer to participate in rewarding and productive community service activities, and helps the explorer prepare for their future roles as citizens and community leaders.
Explorers receive training in the basics of law enforcement including, traffic control, report writing and radio procedures. Explorers are also given the opportunity to assist officers in controlled settings, such as parades or athletic events.
We also teach explorers about firearm safety and marksmanship. The explorer program is also a mutually beneficial experience, as many officers learn from their explorers.
To be eligible to join NCSO's Explorer Unit, you must be of good moral character, maintain respect for law enforcement, maintain school attendance, be attending or have graduated from high school or college, maintain a 2.0 grade point average, be between 13 and 21 years old, pass a background check and be a current resident of Nassau County.
For further information about the NCSO Explorer program contact the Nassau County Sheriff's Office at 77151 Citizens Circle, Yulee, Florida 32097 or 904-225-0331.  The NCSO Exploring Unit is a non-profit 501(3) (c) charitable organization.