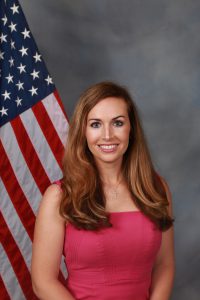 Ashley Spicer
joined Sheriff Leeper's administration as Public Information Officer in February of 2020.  Ashley is a graduate of the University of North Florida (B.S., 2009).  Before joining Sheriff Leeper's administration, Ashley was a news anchor and reporter at a local television channel.
Ashley also worked briefly in our state capital as a news reporter before making her mark in the Jacksonville market for almost 10 years.
Ashley runs our social media pages, shoots and edits the videos you see on our accounts, plans community events, as well as communicates
and coordinates with media outlets.
If you are from a media outlet and need assistance you can contact Ashley by email at: aaspicer@nassauso.com or by phone: 904-548-4076.