Introduction of Contraband into a Detention Facility is a violation of Florida State Statute 951.22(1), a third degree felony.  Violators will be prosecuted.
Private attorneys or public defenders are allowed to visit at any time.
Visitation with inmates incarcerated at the Nassau County Detention Facility is conducted utilizing a video visitation system.  The variance from this procedure is an approved exceptional visit as indicated below.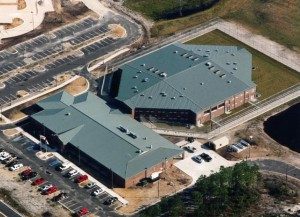 Video Visitation hours are from 9:00 am to 11:00 am and 1:00 pm to 4:00 pm seven days a week.  Exceptional visits will be conducted at the discretion of the Facility Director or his designee.
Two thirty (30) minute visits will be allowed per designated day.  Children of any age are allowed to participate in video visitation when accompanied by an adult.  Children 10 years of age and under can be approved for an exceptional visit when requested by the inmate, approved by the Facility Director or his / her designee, and while accompanied by an adult.
Inmates are allowed to have visitation with friends and family members that have been identified on the inmate's visitation list. Only visitors listed by the inmate on his or her visitation list will be allowed to visit.  Visitation will be denied when there is reason to believe that such visitation would jeopardize the safety and security of the facility.  Visitation will also be denied upon identifying that the visitor is a victim of a violent crime involving the inmate, or if there is an injunction, other legal prohibitions, or a judge's order for no contact between the visitor and the inmate.
The only items visitor(s) may possess are car keys and proper identification (ID).  Acceptable forms of proper ID are a valid picture ID issued by a federal, state or local government agency.  All visitors are subject to search upon entering or leaving the facility.  Visitors under the influence of intoxicants or exhibiting unruly behavior will not be allowed to remain in the facility or permitted to visit and may be prohibited from entering the facility in the future.
All visitors must be appropriately attired.  Unacceptable clothing includes, but is not limited to, transparent clothing, tight clothing without proper undergarments, headwear, shorts, skirts, split skirts above mid-thigh, clothing that reveals the buttocks, breasts, back, or stomach. All of the above will be deemed inappropriate at the discretion of the Public Reception Official. Inmates and/or visitors are not allowed to bring food or drink to the visitation.
Behavior of inmates and/or visitors shall be carefully regulated.  Loud speech, boisterousness, and obscene behavior or language will not be tolerated.
When both parents of a minor, both spouses, or multiple siblings are incarcerated at the same time, an "Exceptional Visitation Form" may be filled out requesting special visitation where by family members may visit related inmates individually on the same day.  Only the Facility Director or his/her designee can approve exceptional visitation.
To schedule a video visitation session, please follow the attached link for E-Mail schedule request, call (904) 548-4002 for a call- in request, or schedule a visitation in person at the receptionist desk in the front lobby of the Nassau County Jail and Detention Facility.  Please take note that video visitations must be scheduled at least 24 hours prior to the desired video visitation time. 


Exceptional visitation requests must be made by the inmate in the custody of the Nassau County Jail and Detention Facility and must be approved by the Facility Director or his/her designee.